As an avid gardener, you spend quite some time in your garden regularly; be it to look after your garden or to enjoy the beauty of the garden that you have so earnestly grown from the scratch. As a gardener, you simply love to be in your garden.
And when you are outdoors, you take a lot of things out with you as well! The gardening tools, the sitting and relaxing requirements…so on and so forth!
But why take all of them with you in the morning and bring them back inside when you are done spending your time in the garden? Wouldn't it be easier if you get a garden storage unit?
Various multipurpose garden storage units are available these days which can serve both the gardening and the storage purposes.
Let's look at some of our options today!
1. Suncast Resin Wicker 22 Gallon Storage Seat
And why exactly do gardeners take to it? Well, the answer follows:
The inner dimension of this storage unit is 15 x 15 x 20 inches – providing enough storage for all your
gardening tools. To be precise, this storage unit has a 22 gallon capacity.
It can be used for seating purpose as well, thanks to the mocha resin wicker seat.
With its contemporary design, it is a good add-on for your garden or patio.
Don't fear the rains…this storage-cum-seat is equipped with a stay dry design.
It is easy to assemble and keep your stuff secure.
2. Leisure Season Potting Table with Storage
The name suggests that it is a multi-purpose storage unit and so do its features:
No clutter as you get to organize and arrange all your gardening and potting requirements in the shelves.
The potting space is quite generous – 24 x 32 x 61 inches.
This medium brown color potting-cum-storage unit also comes with a protective coating that safeguards it against external elements.
Its moisture-resistant nature adds to its longevity.
It boasts of a tongue and groove design.
3. Keter Eden 70 Gallon Storage Bench
Looks lovely, isn't it? Let's find out, what features it has for us:
The style and design is beautiful – that can be said with conviction.
All your garden storage needs can be easily accommodated within it.
Apart from being a storage item, this unit also allows two adults to sit comfortably side by side.
Don't worry about your contents – the structure of this unit ensures that your contents stay dry and ventilated.
One final bit of advantage – this storage-cum-sitting unit is maintenance free.
4. Lifetime 6405 8-by-10-Foot Outdoor Storage Shed with Window, Skylights, and Shelving
Looks like a complete storage unit! Err…not a unit – it is better to call it a storage room perhaps!
The shed has 4 large skylight features to let in sunlight. In addition, there are 2 screen vents, one shatter-resistant window as well as customizable shelving system.
The shed has high-arched and steel-reinforced doors that offer a high door opening – about 4 feet in width and 6 feet in height.
The door is equipped with lockable door mechanism.
The roof being high-pitched will support a-frame trusses and will also provide for head room.
Having a steep roof, water and snow will not accumulate.
5. Suncast GDS200 Garden Scooter
The name is quite quirky…isn't it? Let's see what it holds for us?
It is a portable seat that will keep all your gardening supplies…convenient?
For sitting, there is the comfort of foam cushioning which can also be removed to turn the unit into a kneeling pad.
This storage unit also contains 2 drink holders.
There is also a small bin inside.
There is enough space to carry all your gardening supplies inside.
More Garden Storage Ideas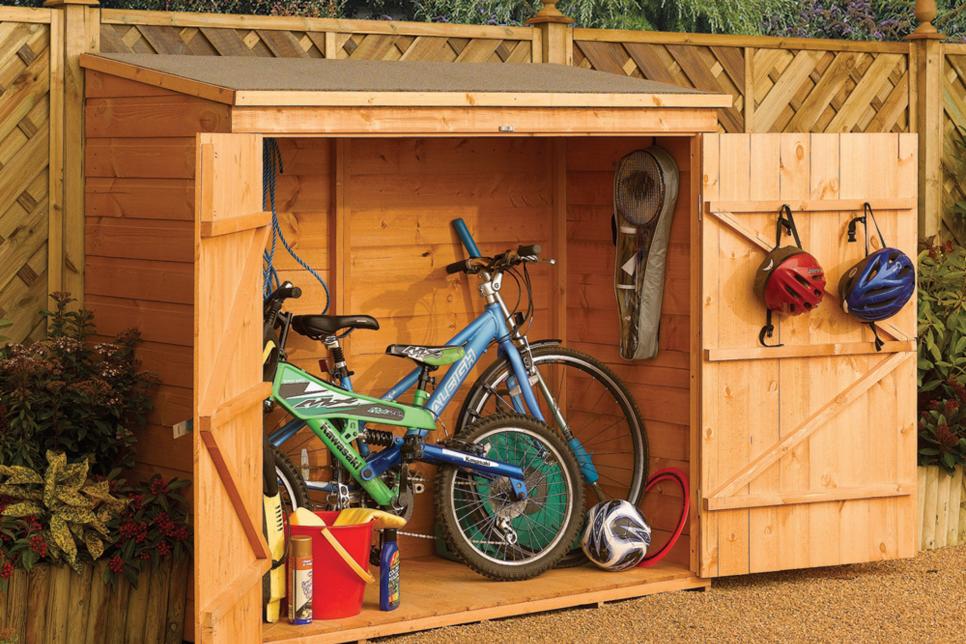 Image Source: sndimg.comThese are some of your garden storage options. All of them have their unique features. So, choose your pick. And once you have made the choice.