Some people have a dream to be an astronaut when they were little.
However, when the time has changed, they may have different dreams too when they grow up.
You may one of those people but you can always make your dream to come true in the room, maybe?
The space theme for the bedroom is another level of bedroom style to have!
Not only that they are very cool but also this theme can help you to sleep at night.
---
Space Theme Bedroom Ideas
---
To know what are the decoration or the space theme ideas that you can have in the bedroom, take a look at this list below.
1. Glow in The Dark Murals
This murals drawing with glow in the dark painted is a brilliant idea to make your own space them bedroom.
Glow in the dark paints are not hard to find in the store or online store with the inexpensive price as well.
You can make this space theme with the glow in the dark paint with your own skills too.
The black colour for the ceiling is the key to make it like the night sky with the stars.
2. Baby Boy Nursery Space Theme
If you have a newborn baby boy then this is can be your inspiration for his room!
However, this nursery room is also for gender-neutral nursery room as well.
You can make this minimalist nursery room with the creative dark blue with white dots to make it looks like the night sky.
It is totally a low budget nursery room that you can have!
3. Solar System Wall
Educational bedroom? Why not! If you want to make your kids room into an educational bedroom, this is the inspiration that you can steal for your kids.
Make solar systems murals or printed wallpaper is a great way to achieve the solar system walls theme!
4. Adorable Astronout Space Theme
Your kids can have a dream to be the astronaut someday, while they dreaming you may want to have this adorable astronaut murals wall as well for their bedroom!
You do not have to get black paint but make this adorable drawing is also brilliant for your adorable child!
5. Navy and Grey Space Theme
To have space theme does not have to be the black colour you can also have the navy and grey for your space theme bedroom.
To have a grey solar system on the wall is another great inspiration for you to have a bright bedroom.
6. Space and Magical Theme Bedroom for Girl
Not only boys who can have space theme in their bedroom, but girls also can have too!
This beautiful magical galaxy space theme is a whole another level of the bedroom.
All blue with a white accent is just a pretty combination.
The murals on the ceiling with clouds and star is just a great company for your dream.
7. Low Budget Space Theme with Glow in The Dark Solar System Sticker
You may love your own bedroom style but sometimes it can be boring to see the same style every day, right?
If you do not want to spend so much money on the makeover, you can just buy the glow in the dark stickers to have the space effects in your room.
Not only that, but you can also get your own space lamp in your room.
The space lamp is another way for you to not ruin the walls!
8. Epic Space Theme Bedroom for Little Boy
Another inspiration for your child's bedroom.
This space theme bedroom with the space ship bunk bed is a brilliant idea.
Your kid can sleep in it but also can be turned into a bed as well.
9. Amazing Ceiling Space Theme Bedroom
If you love to have space theme bedroom and cool easy ceiling murals then this idea is suitable for you!
You do not have to get very expensive and difficult drawings on the wall when you can have a pretty ceiling, right?
10. Wall Art Space Theme
Yup, another art for the space theme bedroom.
This beautiful art is also a great idea for your bedroom inspiration.
This brings the extraordinary looking wall and very magical at the same time!
Since arts can be anywhere not only the canvas, why don't you just have the beautiful art for your bedroom wall, right?
DECORATION IDEAS FOR SPACE THEME BEDROOM
These are 5 decoration ideas for your bedroom space theme that you can get the inspiration and also to complete your space theme bedroom!
11. Galaxy Door Mat
Doormat can be so boring! However, this beautiful galaxy doormat is just something else.
It is a very clever idea to bring attention to your lovely bedroom with this extraordinary doormat.
12. Galaxy Curtain
If your room feels too bright with the sunlight from the window then maybe you can choose this beautiful galaxy curtain as the block of the sunlight from the window.
13. Toddler Canopy Tent Space Theme
If you are a parent to your adorable toddler, you can build this canopy tent for their playing area.
This canopy tent is so fun for their age since they have their own space to have imagination.
Not only great for a toddler but also this canopy tent can be one of the decorations for their bedroom.
14. White Lamp Milky Way
The cute sleeping lamp can be so expensive, however, you can make your own cute sleeping lamp for your kid like this!
Just buy a lamp without pattern or just plain then you can decorate it with space sticker!
This is a brilliant idea for your DIY project to decorate your bedroom space theme.
15. Rocket Bookshelf
The bookshelf can look so boring without any shape.
You can make your space theme more joyful with this rocket shape bookshelf.
Not only for decoration, but this is also literally very useful for you to keep books or just the decoration like a statue!
More Space Theme Bedroom Ideas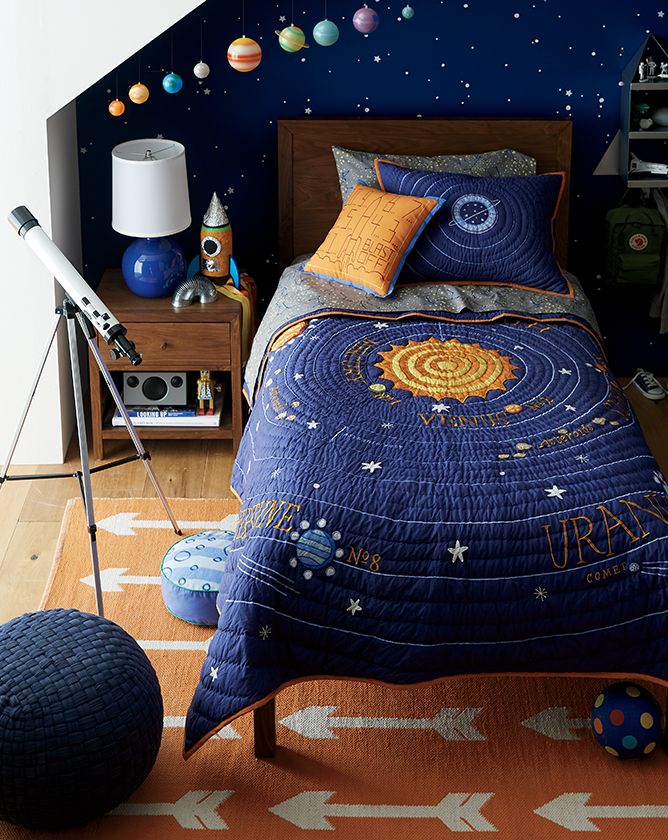 Keyword: Space Themed Bedroom